Clinics at Ghost Dog Ranch - Natural Horsemanship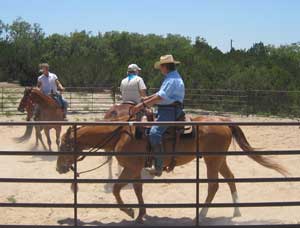 Professional Training for Horse and Rider
For the new and old cowgirl, these clinics are designed to help you build a new relationship with your horse from the ground up. You will learn to work with your horse in a safe and positive manner and learn the skills neccessary to gain your horse's respect on the ground and in the saddle. Kay can help you make your horse dream be less stressful, less frustrating, more enjoyable and give you and your horse more confidence in each other.

FOUNDATION FOR YOU AND YOUR HORSE
NEW DATE: June 4th
Having a good foundation for both horse and rider is the core of becoming a good horseman. This clinic will introduce you to what foundation work is and help you identify where both you and your horse need work. This clinic is for all levels of riders.
Cost: $175
HORSEMANSHIP
APRIL 2nd
This clinic is to help you build and refine skills you need to advance and meet your goals, be it trail riding or competing. No two horses or people are alike so Kay adjusts to fit the situation. Your desire to learn is the most important thing.
Cost: $175
PROBLEM SOLVING
MAY 7th
In this clinic you will bring a problem you are having with your horse or your horse is having with you and work with Kay to identify what it is that needs to be addressed to fix it. All levels of riders are welcome.
Cost: $175
Please contact for more information