Kay McFall Natural Horsemanship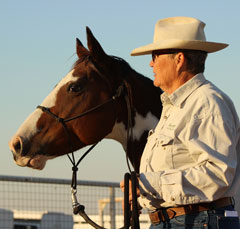 Professional Training for Horse and Rider
Kay has many years experience training horses, from colt starting, to teaching green broke horses, to advanced techniques. If you feel you need to learn training techniques that will benefit you and your horse or you need a professional to do it for you, Kay can assist you in deciding what will work best for you and your pony.
Horsemanship Clinic Dates 2016
PLEASE NOTE NEW DATE: The Foundation for You and Your Horse Clinic is June 4th
Lessons: Learning Natural Horsemanship is a very personal experience. Everybody and every horse has different needs, skill levels and personalities. Kay can help you pick a lesson plan and schedule that is right for you and your horse. Private, one on one training at your facility is available or come to the McFall Ghost Dog Ranch for private or group lessons or attend one of Kay's Horsemanship Clinics.
TIP:
Never mount a horse that is moving,
a good horseman knows that it is dangerous.
Leave the jumping on a moving horse to the movies
where you seldom see good horsemanship.